Los televisores The Frame de Samsung son una línea de televisores con estilo de imagen. Los televisores tienen superposiciones que se montan en el televisor e imitan el marco de la imagen. Cuando el televisor muestra una imagen estática de la galería, parece que una imagen cuelga en la pared.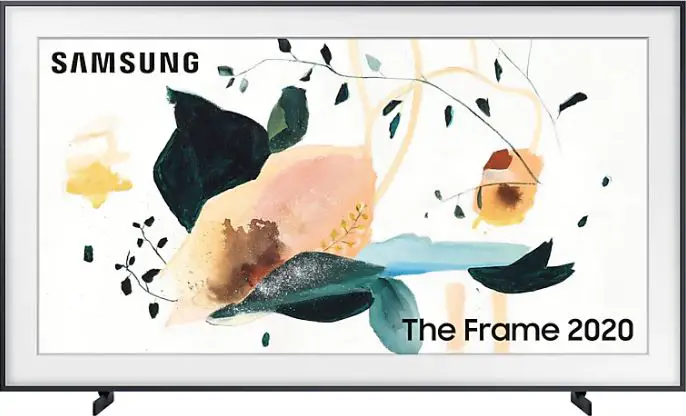 En 2020, los modelos de TV están disponibles para América del Norte.
QN32LS03TAFXZA –
QN43LS03TAFXZA – 998$
QN50LS03TAFXZA – 1298$
QN55LS03TAFXZA – 1497$
QN65LS03TAFXZA – 1997$
QN75LS03TAFXZA – 2997$
Europa QE75LS03TA ****, QE65LS03TA ****, QE55LS03TA ****, QE43LS03TA ****, QE32LS03TA ****
Especificaciones técnicas para televisores The Frame 2020
Las especificaciones detalladas se dan en la tabla, está disponible para ver al final del artículo. Pero si consideramos los parámetros técnicos, los televisores en 2020 recibieron nuevas pantallas. Samsung ha lanzado la producción de nuevas pantallas QLED con reproducción de color mejorada mediante el uso de retroiluminación con dos tipos de LED. También tenga en cuenta que la cantidad de modelos ampliados en 2020 agregó un modelo con una pantalla de 32 pulgadas. Pero el televisor tiene 32 pulgadas, una pantalla de resolución Full HD y una velocidad de fotogramas máxima de 60 por segundo. Los televisores con pantallas de tamaños 43 y mayores admiten una velocidad de cuadros de 120 por segundo.
Diferencias entre los televisores The Frame 2020 vs The Frame 2019
Además de las pantallas, no hay cambios especiales en los parámetros técnicos. La cantidad de puertos USB se ha reducido, ahora solo hay dos de ellos, en los televisores 2020. Puerto HDMI estándar 2.0. Los Frame TV están diseñados para servir como un elemento decorativo y un televisor. Y de acuerdo con la idea de Samsung, las nuevas innovaciones técnicas son más apropiadas en los televisores QLED de formato normal. Aunque 2020, estas son nuevas pantallas y un nuevo nivel de sonido en los televisores.
Especificaciones detalladas de los televisores The Frame 2020 vs 2019.
| | The Frame 2020 only 32LS03T | The Frame 2020 43LS03T 50LS03T | The Frame 2020 | The Frame 2019 |
| --- | --- | --- | --- | --- |
| | | | | |
| screen | | | | |
| Screen Size | 32 | 43, 50 | 55, 65 | 43, 49, 55, 65 |
| Style | Flat Panel | Flat Panel | Flat Panel | Flat Panel |
| Resolution | 1,920 x 1,080 | 3,840 x 2,160 | 3,840 x 2,160 | 3,840 x 2,160 |
| screen bit | 10bit (8bit+FRC) | 10bit (8bit+FRC) | 10bit (8bit+FRC) | 10bit (8bit+FRC) |
| type screnn | Quantum Dot | Quantum Dot | Quantum Dot | Quantum Dot |
| screen technology | VA | VA | VA | VA |
| Backlighting | N/A | Dual LED EDGE LED | Dual LED EDGE LED | EDGE |
| Dimming Technology | N/A | N/A | N/A | N/A |
| Stand Type (Color) | CHARCOAL BLACK | CHARCOAL BLACK | CHARCOAL BLACK | CHARCOAL BLACK |
| Bezel Width | Slim | Slim | Slim | Slim |
| Video | | | | |
| Motion Rate | 60 | 120 | 240 | 240 |
| refresh rate | 60 | 120 | 120 | 120 |
| Color | 100% Color Volume with Quantum Dot, PurColor | 100% Color Volume with Quantum Dot | 100% Color Volume with Quantum Dot | 100% Color Volume with Quantum Dot |
| HDR (High-Dynamic Range) | HDR | Quantum HDR 4x | Quantum HDR 4x | Quantum HDR 4x |
| Picture Engine | Quantum Processor 4K | Quantum Processor 4K | Quantum Processor 4K | Quantum Processor 4K |
| Audio | | | | |
| Dolby | Yes | Yes | Yes | Yes |
| Sound Output | 20W | 20W | 40W | 40W |
| Woofer | No | No | Yes | Yes |
| Speaker Type | 2CH | 2CH | 2.2CH | 2.2CH |
| Object Tracking Sound | No | No | No | No |
| Q-Symphony | No | No | No | No |
| Multiroom Link | Yes | Yes | Yes | Yes |
| Features | | | | |
| OS | Tizen 5.5 | Tizen 5.5 | Tizen 5.5 | Tizen 5.0 |
| Wi-Fi | Yes | Yes | Yes | Yes |
| Bluetooth | Yes | Yes | Yes | Yes |
| Smart Hub | Yes (incl. Sports, Music and TV Plus) | Yes (incl. Sports, Music and TV Plus) | Yes (incl. Sports, Music and TV Plus) | Yes (incl. Sports, Music and TV Plus) |
| Bixby | Yes | Yes | Yes | Yes |
| Digital Clean View | Yes | Yes | Yes | Yes |
| Ultra Black | No | No | No | No |
| ConnectShare | Yes | Yes | Yes | Yes |
| Closed Captioning | Yes | Yes | Yes | Yes |
| Game Mode | Yes | Yes | Yes | Yes |
| Eco Sensor | Yes | Yes | Yes | Yes |
| Mobile to TV - Mirroring, DLNA | Yes | Yes | Yes | Yes |
| Google Assistant | Yes | Yes | Yes | Yes |
| Alexa | Yes | Yes | Yes | Yes |
| Auto Channel Search | Yes | Yes | Yes | Yes |
| InstaPort S (HDMI Quick Switch) | No | No | No | No |
| Channel Guide | Yes | Yes | Yes | Yes |
| Ambient Mode | Yes | Yes | Yes | Yes |
| Auto Power Off | Yes | Yes | Yes | Yes |
| AI Technology | ? | ? | ? | ? |
| Apps Platform | Smart TV with Bixby Voice, Apps and Full Web Browser | Smart TV with Bixby Voice, Apps and Full Web Browser | Smart TV with Bixby Voice, Apps and Full Web Browser | Smart TV with Bixby Voice, Apps and Full Web Browser |
| Auto Motion Plus | No | No | No | No |
| Embedded POP | No | No | No | No |
| Anynet+ (HDMI-CEC) | No | No | No | No |
| V-Chip | Yes | Yes | Yes | Yes |
| TV to Mobile - Mirroring | Yes | Yes | Yes | Yes |
| USB HID Support | Yes | Yes | Yes | Yes |
| AI Upscale | No | Yes | Yes | Yes |
| Easy Pairing | No | No | No | No |
| Inputs & Outputs | | | | |
| HDMI | 2 | 4 | 4 | 4 |
| USB | 2 | 2 | 2 | 3 |
| Ethernet | Yes | Yes | Yes | Yes |
| RF In (Terrestrial/Cable | Yes | Yes | Yes | Yes |
| RF In (Satellite Input) | Yes Europe, No US | Yes Europe, No US | Yes Europe, No US | Yes Europe, No US |
| Digital Audio Out (Optical) | Yes | Yes | Yes | Yes |
| Audio Return Channel Support | No | Yes | Yes | Yes |
| One Connect | Yes | Yes | Yes | Yes |
| Samsung OneRemote | Yes | Yes | Yes | Yes |
| System | | | | |
| Digital Broadcasting | ATSC/ClearQAM US, DVB Europe | ATSC/ClearQAM US, DVB Europe | ATSC/ClearQAM US, DVB Europe | ATSC/ClearQAM US, DVB Europe |
| Analog Tuner | Yes | Yes | Yes | Yes |
| Accessories | | | | |
| Remote control | TM2050A(White) | TM2050A(White) | TM2050A(White) | TM1950C |